What's The Best Dog Food For Hunting Dogs? Reviews & Buyer's 2022 Guide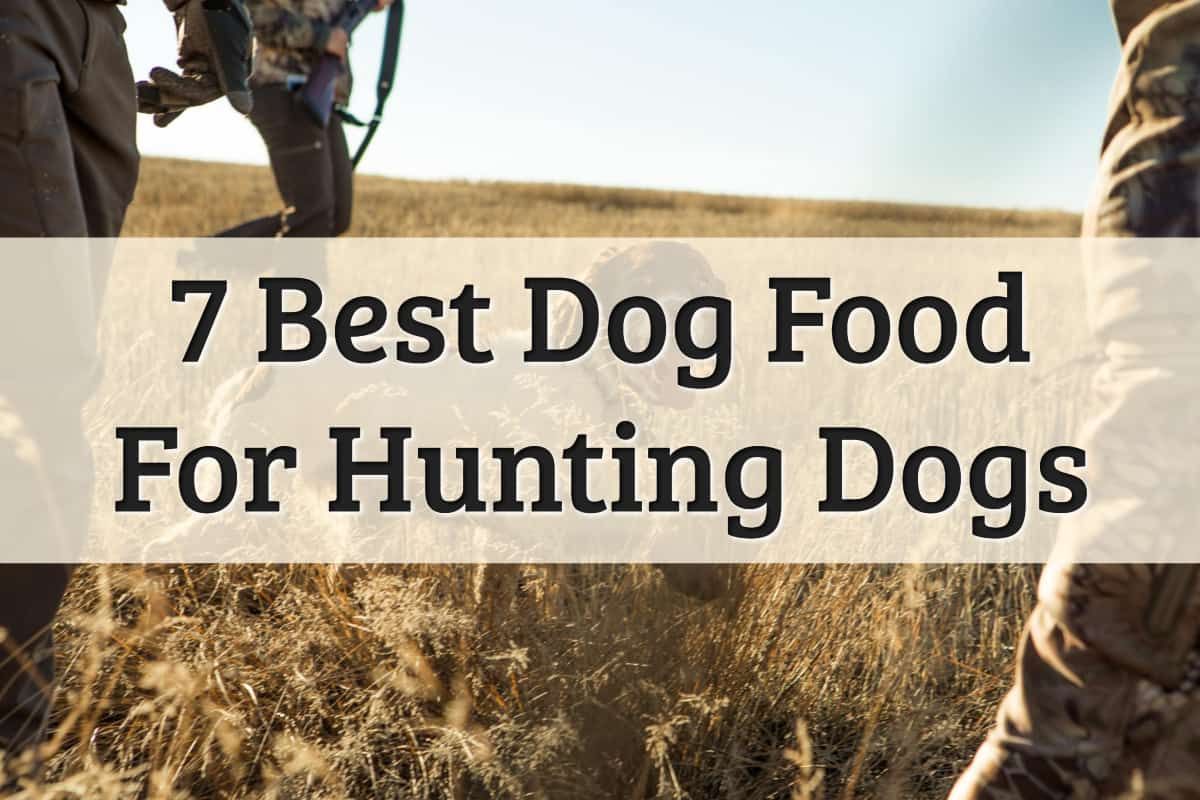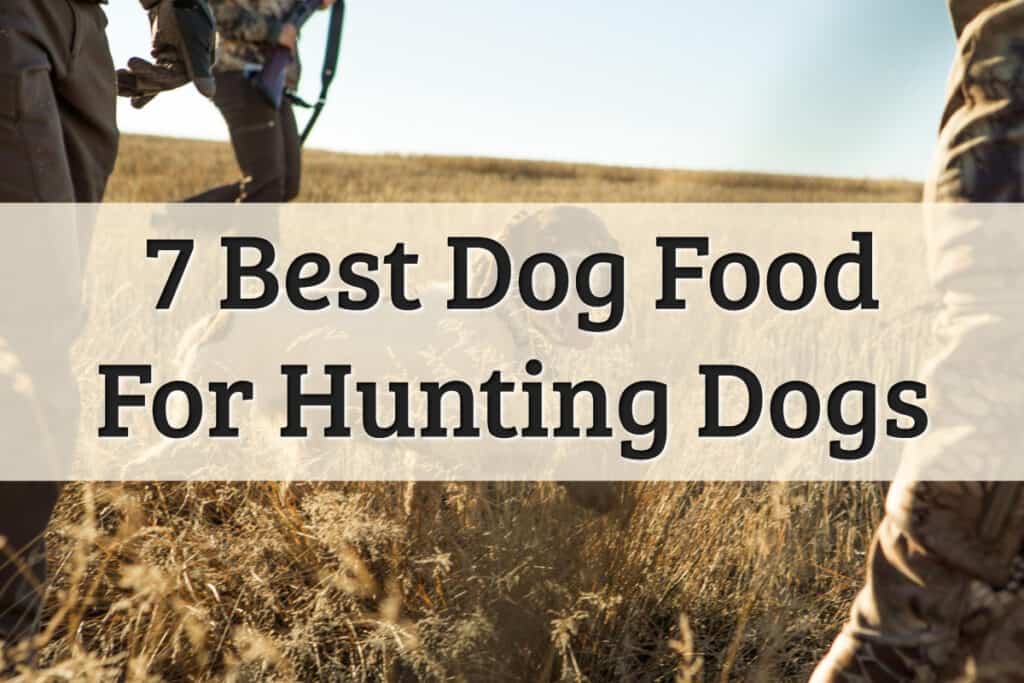 So you are the proud owner of a hunting dog and you actually take the time to work your pooch. Now that is great! In this crazy but wonderful age of pampered fur babies, well-trained hunting dogs are quite uncommon. But that doesn't mean you can't spoil your dog — who doesn't want the best for their best friend, after all?
You have spent a lot of time training your hunting pooch to be a highly effective athlete. You definitely want to do anything possible to keep him fit and healthy. Buying the best dog food for hunting dogs should be at the top of your list of priorities.
There are numerous dog breeds that were originally developed for hunting purposes and they all have different builds, abilities, and needs. However, they all share one thing in common: they are all very active and energetic dogs. And hunting dogs of all sizes and life stages require certain nutrients to maintain their health and keep them moving.
But you may be wondering "what is the best dog food for hunting dogs?" In this article, we'll review the best hunting dog food formulas currently available on the market so you can provide your pooch with all the essential nutrients to give him the energy he needs to perform the tasks at hand and keep their body in great shape.
We already did all the research for you. If you're in a hurry and just want to see the best dog food for hunting dogs, here are our top choices.
PRODUCT / PRODUCT DETAILS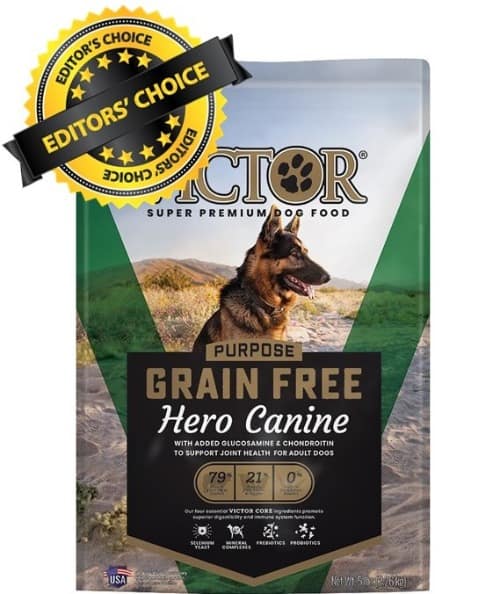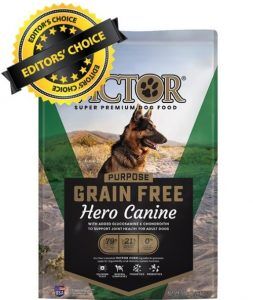 1. Victor Grain Free Hero Canine for Adult Dogs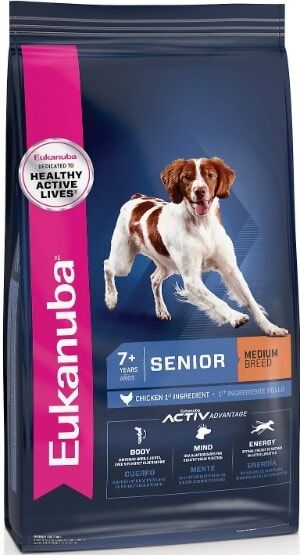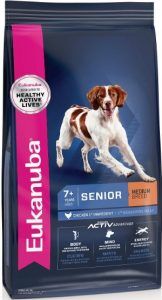 2. Eukanuba Activ Advantage for Senior Medium Breed Dogs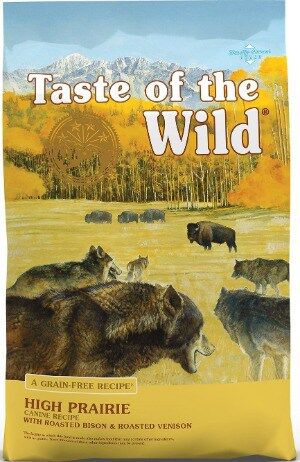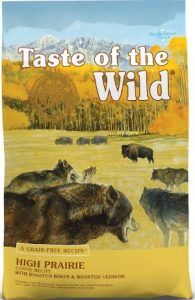 3. Taste Of The Wild High Prairie Grain-Free Recipe With Roasted Bison & Roasted Venison
Our 7 Best Dog Food For Hunting Dogs
1. Victor Grain Free Hero Canine For Adult Dogs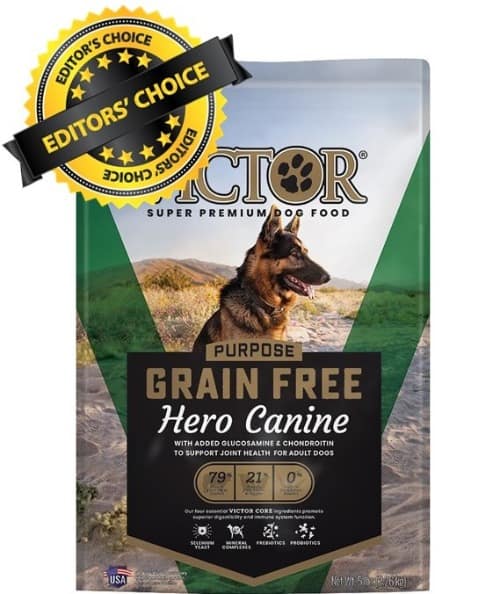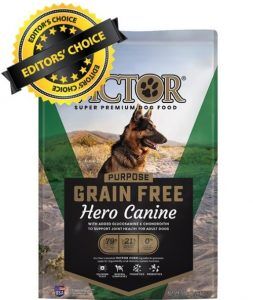 If you're looking for the best food for hunting dog, then this grain-free formula for adults can be a great choice for you (this is actually our top pick because of its nutritional benefits).
Generally speaking, sporting dogs are vulnerable to joint issues, and this dog food is formulated with active pups and their joint health in mind. This is because it contains ingredients like chondroitin and glucosamine, which help to boost mobility and prevent joint issues.
This wonderful recipe also contains 79-percent protein source from fish, pork, and beef products and includes probiotics and prebiotics to support the digestive system.
It also contains calcium and other nutritious components that dogs need to develop stronger bones. Since this formula is grain-free, it includes carbohydrate sources like sweet potatoes. This product comes in three different bags: 50-pound bag, 30-pound bag, and 5-pound bag, so you can choose the right size for your pet.
2. Eukanuba Activ Advantage For Senior Medium Breed Dogs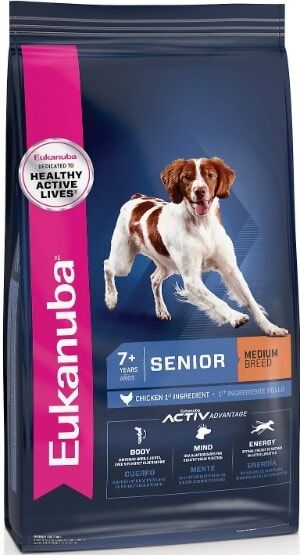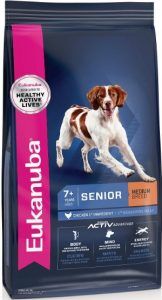 Eukanuba is known for making products with premier-quality ingredients that offer well balanced nutrition, and this dry dog food formula is no exception. Like other trusted manufacturers, Eukanuba appreciates the fact that dogs are special members of our families and therefore, must be fed a suitable diet.
This Eukanuba Activ Advantage variety is strongly recommended for people with active hunting dogs. This is because this food contains mainly premium quality animal proteins. The first ingredients included in this dry dog food are chicken and natural sources of glucosamine and chondroitin sulfate (chicken byproduct).
Like most Eukanuba dog foods, this product boasts the unique 3D DentaDefense System – which has proven to minimize dental issues in a matter of days. This product is a great choice for canine athletes of all life stages.
3. Taste Of The Wild High Prairie Grain-Free Recipe With Roasted Bison & Roasted Venison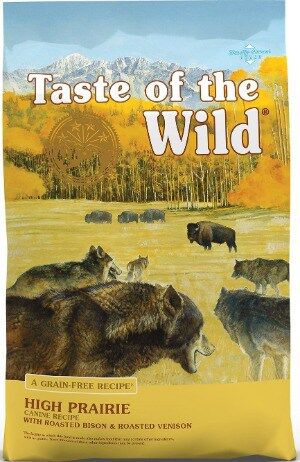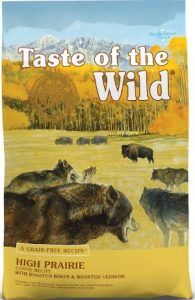 Taste of the Wild Dry Dog Food contains roasted Bison as its primary ingredient, making it one of the best dog foods for high performance pooches. It contains high levels of protein, fatty acids, and anything else a dog requires in order to grow stronger muscles.
The high protein sources are combined with essential vitamins, minerals, amino acids, and other dietary components. The product also contains superfoods like fruits and vegetables, which are perfect for working dogs.
Its blend of powerful antioxidants and fatty acids helps to make your dog's skin healthy and coat shiny. The food uses all-natural, high quality ingredients from trusted sources. Therefore, the product doesn't include any corn, wheat, or soy. It also contains no fillers, preservatives, or additives.
It is totally natural and easily digestible, making it ideal for most sporting dogs. Since this dry food can be quite heavy for pooches with sensitive stomachs, be sure to introduce it to your pet gradually.
4. Annamaet Dog Food Ultra 32% Protein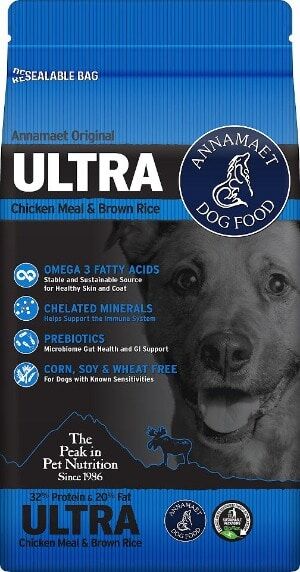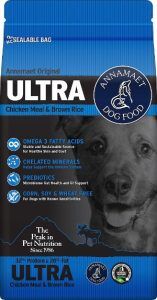 Annamaet Ultra is the best dog food for active dogs because it is suitable for young puppies and adults alike. This dry dog food formula is all natural and contains 32 percent protein. It is free of soy, corn, and wheat.
Moreover, it includes algae, a stable ingredient that is rich in omega 3 fatty acids. It is also rich in fats, which helps to boost lean muscle mass.
It boosts the cognitive function of dogs of all life stages. The presence of DHA in the food helps with brain development and supports the bones and eyes of your dog as well. The primary ingredient in this dry food is real chicken and it doesn't contain any artificial flavors, colors, or additives.
Other important ingredients include brown rice, dried yeast, herring meal, dried eggs, carrot, flaxseed, parsley, celery, and other nutritious fruits and vegetables.
5. Victor Grain Free For Active Dog & Puppy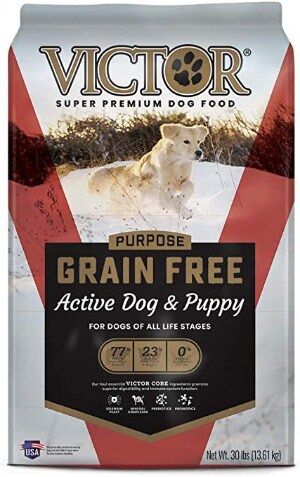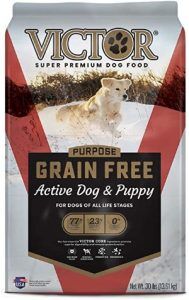 This grain free food for growing puppies and adults is also a great choice if you have active hunting dogs. It is fortified with the nutrients your dog needs to lead an active lifestyle. This senior dog and puppy formula contains a delicious combination of pork, chicken fat, real beef, fish meal, and sweet potatoes.
Plus, it is made for active dogs and includes all kinds of nutritious supplements such as dried vegetables, chelated minerals, and probiotics. Another advantage of this dog food is that it is grain-free.
Along with these ingredients are omega fatty acids, vitamins, and other components to help complete anything that your pet might lack in terms of nutrients. This is certainly a nutrient-rich formula that will help support their growth and development.
It is designed for all ages but particularly for puppies that are allergic to grains or some proteins. To achieve the desired results, you should follow the instructions on the product label when feeding your hunter pets, based on their life stage and overall well-being.
All-natural ingredients have been used to produce this dog food, so you can expect your pup's energy to be sustained throughout the day for excellent performance in the field.
6. Wellness Ninety-Five Percent Chicken Grain Free Canned Dog Food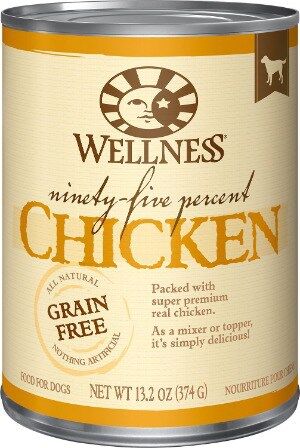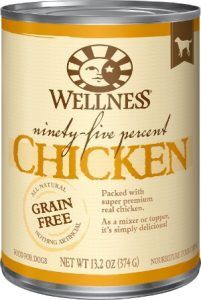 This canned wet dog food from Wellness is a delicious treat for sporting dogs. It contains high protein and fat content to increase energy levels and support the building of lean muscle mass. It suits dogs of all breeds, both large and small.
The formula doesn't contain any peas, soy, wheat, or corn, so you can feed it to your dog without worrying about stomach upsets. The first five ingredients are deboned turkey, turkey meal, chicken, peas, and potatoes.
This dog food is formulated with full-grown dogs in mind and you can use it as a treat to encourage good behavior during training or to add moisture content and taste to regular dog food. Each pack contains natural ingredients like chicken products and since it is wet dog food, it can also help keep your working dog hydrated.
7. Victor Performance For Adult Dogs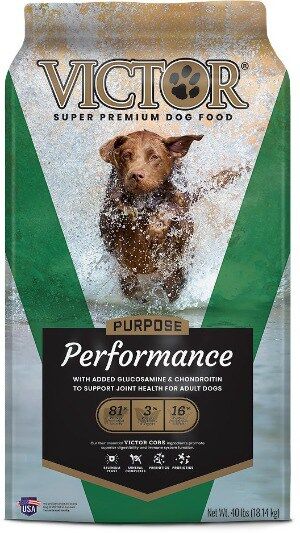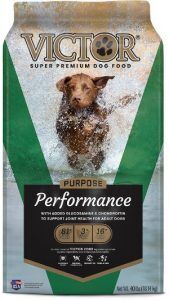 This delicious product is made for large breeds and adult hunting dogs. This therapeutic dog food for adult hunting dogs is ideal for dogs that are vulnerable to joint issues.
This dog food option is best fed to performance dogs that spend a lot of energy each day; otherwise, you would have to deal with a hyperactive dog each day. It gives dogs reliable energy levels and boosts their immune system.
Notable ingredients include chicken meal, beef meal, grain millet, grain sorghum, pork meal, and blood meal. Also, it includes essential minerals and vitamins required or healthy living. To support joint function, the formula is enriched with chondroitin and glucosamine.
Regular consumption of the best dog food for hunting Labs will help strengthen your pet's bones and teeth, give them lots of energy, and enhance their overall appearance. Although certain grains are included in this dry food, it is free of gluten.

Understanding The Activity Levels & Dietary Requirements For Hunting Dogs
With their high activity levels, hunting dogs should be kept in good condition. All the time and resources invested in their training can go to waste if you don't feed them the proper foods. Therefore, you need to understand the activity levels and dietary needs of your working dog if you want to get the best out of him.
According to nutritionists, three key components are vital in determining how well a hunting dog performs: training, diet, and conditioning. Feeding high performance dog food to your hunting partner throughout the year can allow you to get the most out of your pup.
Knowing what to feed your hunting dog can greatly influence how well your pup performs in the woods. The best dog food for hunting lab can help enhance your dog's stamina and endurance.
The main requirement is long term fuel, and high performance foods can provide your dog with much-needed energy. Highly active canines will generally require more calories per day compared to less active pups.
Understanding when you need to feed your hunting dog is equally important. Hunting experts and veterinarians agree that such hardworking dogs should not be fed high quality foods in the morning. It's recommended to feed your hunting dogs once a day.
Keep in mind that healthy, full grown dogs depend greatly on fat metabolism for their performance, so it's advisable to feed them the correct quantities once per day based on the dog's size, and activity level.
For the best results, feed your hunting pup after he has calmed down after the day's field activities. That way, the dog has ample time to digest their food while recovering.
Dogs come in a wide range of characteristics, breeds, sizes, and activity requirements. When it comes to the dietary requirements for hunting puppies, there's no one-size-fits-all solution.

Terrier Dogs
Terriers are the smallest hunting dogs and are commonly used for hunting birds, foxes, rabbits, squirrels and other small game, as well as family pests like rats. These terrier dogs include Rat Terriers, Boston Terriers, and Jack Russell Terriers. They have tons of energy and therefore, have specific dietary needs.
Hound Dogs
Hound dogs are built for endurance and channel their eye and nose to pursue large game. They bark loudly and have a great sense of smell that enables them to track large game over long distances. Scent hounds are also brave and are commonly used to hunt medium or large-sized animals such as boar, bear, deer, coyotes, and raccoons, among others.
Hunting hounds are very popular in the United States and parts other parts of the world, and they include Beagles, Foxhounds, Coonhounds, Greyhounds, Bloodhounds, and Redbone Hounds.
Gun Dogs
Gun dogs are large breeds of dogs that are commonly used to frighten hidden game for their hunters to shoot. They are also effective at retrieving killed animals including wetland creatures like ducks. These species include Labradors, Golden Retrievers, and Springer Spaniels, among many others.
High-Performance Vs Normal Dog Food
It's important to maintain your dog properly by feeding him a high performance diet. It is recommended to feed your working dog 50% carbohydrates, 30% protein, and 20 percent fat. That way, you can maintain the performance of your dog.
High-performance dog foods help to reduce the metabolism of your dog's body. It also helps to reduce your pup's ability to utilize fat. High performance food has high fat and protein levels. These help support mental strength, eyesight, and endurance. So, such foods are excellent options for hunting breeds with high energy expenditure.
Due to the difference between high performance food and normal kibble, it's possible to modify your feeding programs based on your dog's needs.

2 Dietary Considerations & Common Health Problems In Hunting Dogs
While we recommend feeding your dog only one meal per day (usually four to six cups of high-quality dog food), it's still important to consult your veterinarian and learn as much as you can about the nutritional requirements of your dog.
At the end of the hunting season, you need to adjust your dog's diet accordingly, especially if you want to keep him on a high-performance diet. You need to decrease their caloric intake because he won't be getting as much exercise and he may become overweight if you're not careful with his feeding schedule.
Here are a few common hunting dog health problems that you should familiarize yourself with:
1. Hypoglycemia
Also known as low blood sugar, hypoglycemia occurs in canines for different reasons, and the consequences can be alarming to a dog owner witnessing a hypoglycemic attack for the first time.
Prolonged or repeated episodes can lead to devastating effects. Therefore, it's important to know the most common causes of hypoglycemia in dogs and how to prevent attacks.
Hypoglycemia can affect hunting dog breeds after prolonged periods of action in the field and lack of sufficient food. Continued exertion in such circumstances depletes the glycogen in the dog's body [1], as it uses it as an alternative source of energy.
This causes a reduction in blood sugar levels, thereby leading to hypoglycemia and other health issues. Before going on a hunting mission with your dog, give them a high protein meal first.
Carry a vitamin supplement or some corn syrup with you so you are well prepared just in case your furry friend starts to show signs of hypoglycemia.
2. Arthritis & Hip Dysplasia
Arthritis can hinder a hunting dog's performance. One of the reasons why dogs might develop this disease is obesity. Therefore, it's important to maintain your hunting buddy at a healthy weight.
If your pet has this medical issue, find a soft space to exercise him regularly in order to keep him fit and active. Your vet can recommend more ways to keep your dog more comfortable during exercises.
Large sporting dogs are also susceptible to hip dysplasia, which occurs when a hip socket doesn't completely cover the upper part of the thigh bone. While this ailment is mainly inherited, injuries and obesity can aggravate the problem.

Important Features To Consider
Protein
Feeding your hunting canine in the correct nutrient ratios is a huge responsibility and might even be more difficult than feeding an ordinary dog. High protein content is vital for these dogs, particularly if they tend to be active.
The dog food must contain at least 30% protein. For example, protein sources like meat meals and whole meats such as lamb or salmon will provide your dog with the energy he needs to perform well. Animal protein also improves the flavor of food, which can be helpful when it comes to picky eaters.
Fat
Fat is an excellent source of energy for endurance. Fats also contain fish oil, which provides omega 3 fatty acids to keep your dog's coat and skin healthy.
Feeding your hunting pal food containing high fat content will allow them to perform better. You should check the product label to ensure the ingredients list contains animal fat sources like chicken fat.

Carbohydrates & Fiber
Carbohydrates are not particularly bad, and you can add some complex carbs to their regular diet. Just try and find hunting dog foods that contain sweet potato or brown rice to increase the carbohydrate content in their diet, and stay away from grains where possible. However, it is important to keep the carb percentage low or moderate.
Fiber is another essential nutrient that is included in the best food for high energy dogs. However, its type in the best food for hunting dogs determines the role it plays when it comes to digestion. It is derived mainly from the plants and grains listed in the foods.
Other Minerals & Vitamins
Vitamins and minerals should also be included in your dog's diet. Providing them with minerals and vitamins will help improve their immune system, strengthen their muscles, joints, and bones.
Corn meal and sweet potato will also provide your dog with the carbohydrates and fibers that he needs. Read the packaging carefully on the best puppy food for hunting dogs and see what nutrients are included.
Water Content
In addition to feeding your working dog a balanced diet, you should always remember to provide him with plenty of fresh water, especially if you're feeding them dry dog food.
Water is of great importance for your working bird dogs since it helps to keep them hydrated. Your dogs also need to be enticed with some bone broth to boost water content at all times.

3 Ingredients To Avoid
1. Meat By-products
Choose a whole meat pet food brand that contains meat as its first ingredient and avoid meaty byproducts. Food containing meat byproducts often doesn't contain any specific kind of meat named and most likely contains bones instead.
2. Grain Fillers
If you want to feed your puppy food with grains, choose whole grains. It's best to avoid gluten, processed products, and fillers to help prevent bloating. Also, make sure to avoid wheat and corn and settle on rice and barley instead.
3. Preservatives
Avoid any dog food brand with artificial preservatives. If there are any preservatives, make sure they are natural. These include ascorbate (vitamin C) and tocopherols (vitamin E). You want to steer clear of ingredients such as BHA, BHT, and ethoxyquin.

Frequently Asked Questions
How can I get my hunting dog to gain weight?
In order to get your hunting dog to gain weight, there are a few things you need to do. Firstly, feed your dog twice at night in order to reduce the calorie deficit. Secondly, give your hunting buddy a high-fat snack that doesn't fill his stomach. You can find many commercial options out there that come in the form of blocks, droppers, and tubes.
Finally, supplement your pet's nightly food with additional fat. It is important to be careful about the amount of fat you feed him since there is a risk of health conditions like pancreatitis. However, a tablespoon of coconut oil, olive oil, or a powdered pork product can help improve your hunter dog's metabolism without filling his tummy.
How often should you feed a hunting dog?
You should feed a hunting dog once a day. Your pup's endurance is at a higher level on an empty stomach. Research studies have shown that a canine runs faster, is more agile, and has more stamina on an empty stomach.
Should you feed the dog before hunting?
No, you should feed the dog after the hunting expedition is over. Feeding your dog after the day's hunting activities will allow the body to process the ingested food and also give him time to eliminate without the mission of hunting distracting his body's natural processes.
Conclusion
So there you've it! Everything you need to know about the best performance dog foods for hunting dogs. Hopefully, our hunting dog food reviews will help pet owners to learn and discover exactly what their hunting dogs need.
Any of the above options will be able to provide your hunting companion with the nutrition and energy he needs to enjoy an active and happy working life. We'd for sure go with Victor Grain-Free Hero Canine for Adult Dogs.
But consider any of the best performance dog food products reviews above and choose one of the hunting dog food brands for your pooch. You'll be glad you did!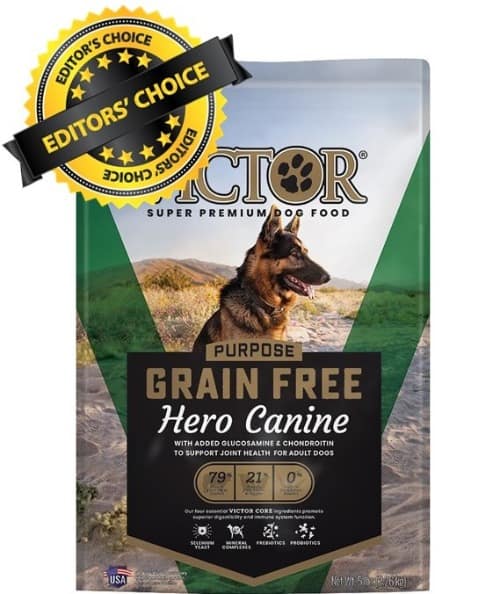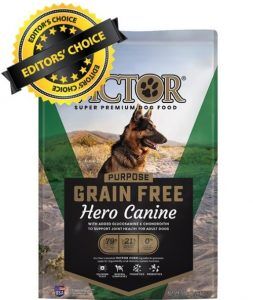 Victor Grain Free Hero Canine for Adult Dogs